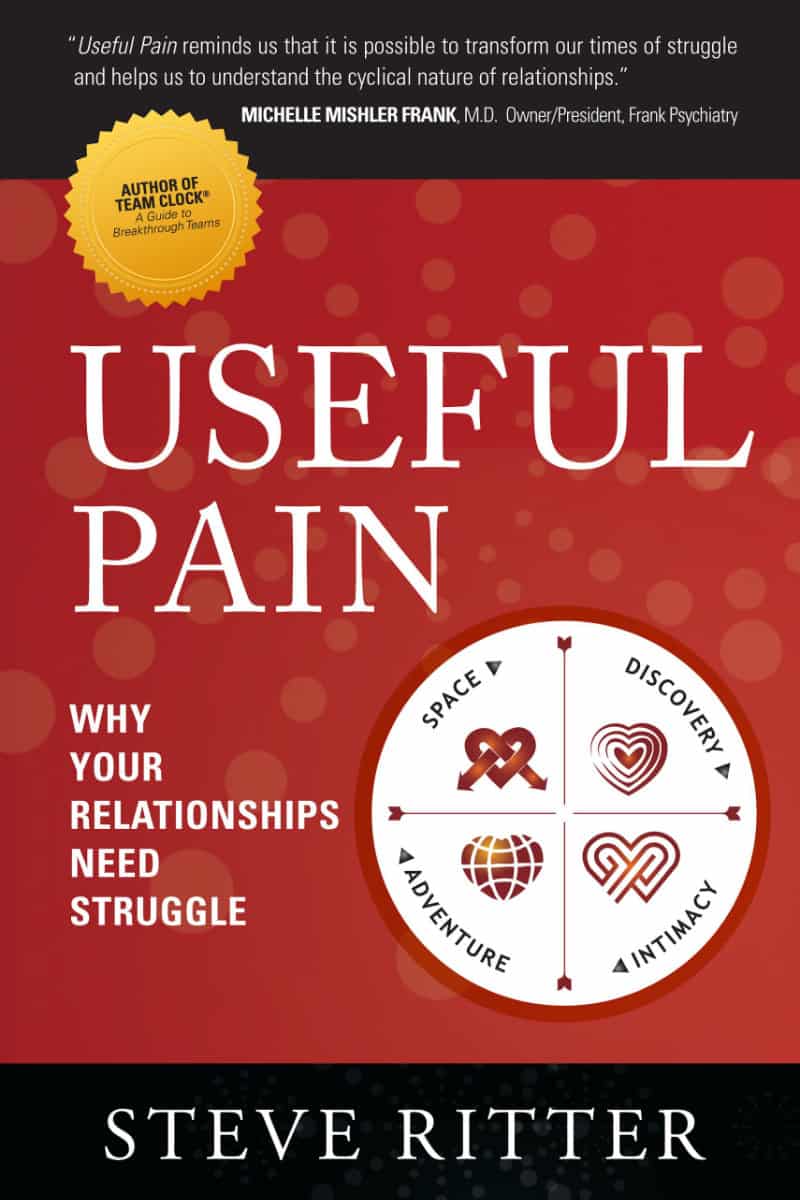 Useful Pain: Why Your Relationship Needs Struggle
What if everyone was accountable for their contribution to the health and wellness of every relationship they joined? Consider the consequence of more lasting friendships, more loving marriages, more satisfying affection, more productive problem solving, and more resilient adaptation to change.
Steve shows how much he values and wants to strengthen relationships with his new book. He uses thoughtful stories to illustrate common experiences in relationships along with good insights and useful strategies. Couples can learn more about themselves and each other, and increase their level of communication, fun and energy.
It is refreshingly positive, enthusiastic and motivating. This is an excellent resource for couples at any stage of their relationship, whether it be in their early courtship, married for many years or somewhere in between.
Michael Wagner, M.D.
Founder, Performance Enhancement Coaching
Useful Pain reminds us that it is possible to transform our tines of struggle and helps us to understand the cyclical nature of relationships.
Michelle Mishler Frank
Owner/President, Frank Psychiatry
Useful Pain is readable, practical and straightforward for the lay person, as well as professionals. The stages provide a great framework to use in exploring and evaluating the quality and opportunity in our relationships. Each challenge presents great opportunity when we have the tools to understand, evaluate, and communicate with our loved ones.
Ann C. Schreiner, LCSW
President and CEO, Pillars
There indeed are no days off in relationships. This book, truly fit for any and all relationships, teaches us how to ensure that each day helps us live out our happily ever after. A great and necessary read.
Elvisa Pandzic
Research Analyst, Networked Insights
In today's complex world, there are those who would encourage our impulse to avoid struggle and conflict in our daily lives so our paths are always "stress free and painless." Yet, the greatest teachers, coaches and mentors advise the opposite. Anything valuable that we either gain or grow into cannot be accomplished without struggle, sacrifice or pain. Steve Ritter's latest book shows us how to embrace struggle in order to grow in insight, empathy for others and mastery of our talents.
Priscilla Herbison, MSW, JD
Professor, St. Mary's University
Useful Pain provides readers with a refreshingly new way to look and think about the pain and/or challenges that arise within interpersonal relationships. The section "ten common challenges of relationships" provides detailed real like examples of how to use the ten challenges to rejuvenate and enhance one's relationships.
Erika Lindstrom
Social Worker, Lexington Medical Center
Informed by psychological/developmental theory, clinical research and a wealth of knowledge derived from over thirty years of practice, Steve Ritter's Useful Pain offers the reader and excellent guide for salvaging, enhancing, and deepening the relationship of the couple in myriad ways.
Randolph Lucente, Ph. D.
Professor, Loyola University of Chicago School of Social Work
This book offers a clear and easily understandable journey through the cycles of our intimate relationships.  It builds self-awareness and thus provides a useful framework to take our relationships to the next level. A must-read for anyone at any stage of their relationship.
Alan R. Graham, PhD, PCC, MCAC
ACP Consultants, Ltd
Steve Ritter is a highly-respected counselor known for his empathy, insight and pragmatism.  His new book, "Useful Pain", makes it clear that strong relationships are never easy. He helps you understand that every relationship has its challenges, and that there are practical steps you can take to move through the challenges to an even richer relationship.
Gail R. Meneley
Co-Founder, Shields Meneley Partners, Chicago, Illinois
Steve aptly intertwines the principles that apply to creating healthy work groups into the principles of creating a successful marriage.  While it should be obvious that the principles are exactly the same, how easy it is to take marriage for granted while investing immense energy in the workplace.
Ginger Barthel
Senior Consultant, Borling and Associates
Which romantic relationship has known no struggle? This book helps every couple understand the difficulties they face more thoroughly, and live up to the challenges more constructively. Full of stories we can all identify with, it is an easy read that's well worth the hour or two you'll invest. Save yourself headaches, heartaches and heartbreaks, then use it to help those you love as well!
Marie-Josée Shaar, MAPP, CPT
Wellness Speaker, Consultant and Facilitator, Author of Smarts and Stamina: The Busy Person's Guide to Optimal Health and Performance.
This is an easy-to-understand book on the practicalities of dealing with pain, showing clearly 'why struggles make relationships stronger.'  It is appetizing and, at the same time, offers solid instruction to anyone who feels a desire to face the adversities that life brings.
Father Francis Kabiru
Pastor, St. Agnes Catholic Church
So often in life, we encounter difficult situations involving our relationships with others. We can choose to walk away from these relationships or to remain in them. If we chose the latter, it will require that we struggle with the pain of making that relationship better. The result is also a stronger relationship. In his first book, 'Team Clock: A Guide To Breakthrough Teams,' Steve Ritter introduces us to the Team Clock approach to addressing and resolving interpersonal conflict and barriers in a way that results in stronger and more productive and rewarding relationships. In his new book, "Useful Pain: Why Your Relationships Need Struggle," Steve brings these powerful tools to more personal relationships helping to strengthen the bond between couples, families, and friends so they can function together as a team and achieve their goals too whatever they might be.
Joseph R. Zander, Ph.D.
Assistant Clinical Professor, Department of Psychiatry University of Illinois, Chicago
A very practical, succinct, and hands-on guide about how to navigate complex human relationships.
Nadine Kelly, M.D.
Yogi MD
Before you throw in the towel, read this book! Too many couples quit before they really understand what's going on in their relationship. Steve reassures the reader that there are missteps and failures in every relationship and that these are precisely what is required to move couples to deeper intimacy and authenticity. The couples highlighted are like us, or someone we know, making this book especially accessible, practical and encouraging. This is excellent advice for relationships in all stages of growth.
Rev. Jeanne Hanson
Executive Director, Samaritan Counseling Center of the Northwest Suburbs
Useful Pain will fundamentally change how you think about your own relationship challenges and rewards. Filled with evocative examples, Steve has taken the complexity of personal partnerships and turned it into a simple roadmap of endless exploration - marked by new ways of relating. It has encouraged me to apply this practical wisdom and sustainable technique to enhance my own life. A "must-read!"
Tina A. Haubert
Managing Director, The Executives' Club of Chicago
Steve has the ability to transcend his skills in impressive and sensitive ways to positively impact challenges that all partners face. In an easy to follow process, Steve shares his intrinsic and sophisticated way of intervening which allows us all to take our relationships to the next level.
Jacki Fitzgerald Frederking
Dean of Students, Alan B. Shepard High School