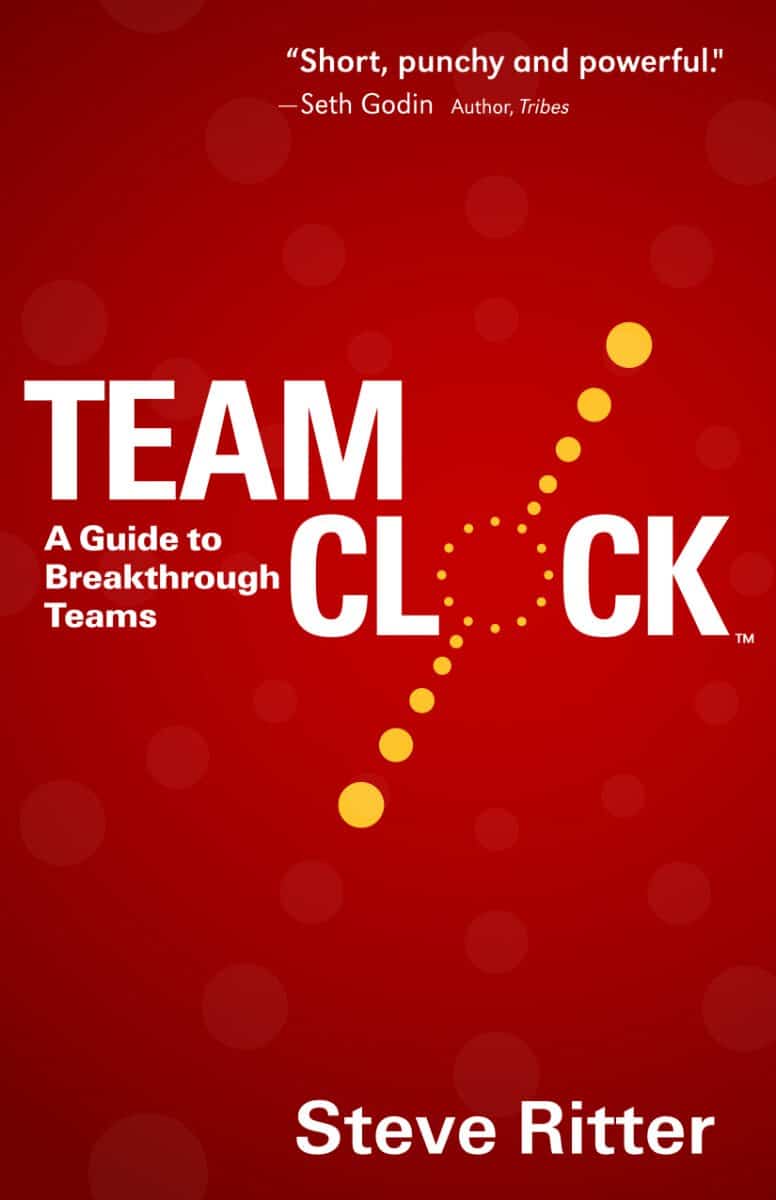 Team Clock: A Guide to Breakthrough Teams
Steve Ritter explains the Team Clock® methodology in a concise and powerful approach. Readers learn how to manage the four stages of team development and gain clear, actionable strategies for creating breakthrough results. Interesting and exciting examples are used to aid in clarity and understanding of the methodology.
Team Clock is a brief and unique analysis of the psychology of successful teaming. Through storytelling, case studies and graphics, Steve Ritter offers the reader a specific model and strategies for achieving effective teams – whether in sports, business or schools.
Throughout the book, Ritter emphasizes the need for skilled team work if optimum success is to be achieved. In an era when 'professional learning communities' are emphasized as the bases for successful schools, Ritter's book is a valuable tool in teaching the essentials of how these communities might successfully be implemented.
Joanne Rooney, Ed.D.
Co-Director, Midwest Principals Center
Steve has done a masterful job bringing a great team development tool to life through Team Clock. A product of his practical and research experience, the Team Clock helps teams assess where they are and gives them the information they need to improve their effectiveness. I have recommended Team Clock in workshops and seminars as a way for teams to become high performing.
Pamela Stroko
Vice President, Mid-Market HCM Transformation & Thought Leadership at Oracle
This book made me think hard - really hard - about what it means to join or lead a group of people. Short, punchy and powerful.
Seth Godin
Bestselling Author, Tribes
Team Clock provides leaders and team members with proactive, clear and easy to follow guidelines to improve a team's communication, trust and comfort level. Your team will thrive in productivity and functionality and promote positive outcomes. Applying Team Clock concepts bolster healthy, dynamic, mutually respectful and collaborative cultures.
Dr. Bhavna Sharma-Lewis
Superintendent, Riverside District 96
Team Clock has truly transformed the way my team communicates. I highly recommend it to business leaders everywhere.
Bo Menkiti
CEO, the Aroli Group
Team Clock provides teams with a direction for future growth.
Dean Simpkins
Director, Football Coaching International
Team Clock is a perfect step up for students of team dynamics who are ready for a thought provoking framework that goes beyond the basic model of 'forming, storming, norming and performing.' Ritter's work provides insight into group behavior and effectiveness, and the natural way groups evolve and grow over time. Team Clock is full of applications for every kind of group, from business teams to families.
Professor Julie Hennessy, Clinical Professor of Marketing
Kellogg Graduate School of Management, Northwestern University
HCI members have embraced Team Clock as a simple, direct and powerful resource for engaging and leading teams in the new economy.
Michael Foster
Chairman and CEO, Human Capital Institute
Team Clock provides a wonderful common language for the development of professional learning teams.
Jack Eliot
Co-Director, Midwest Principals Center